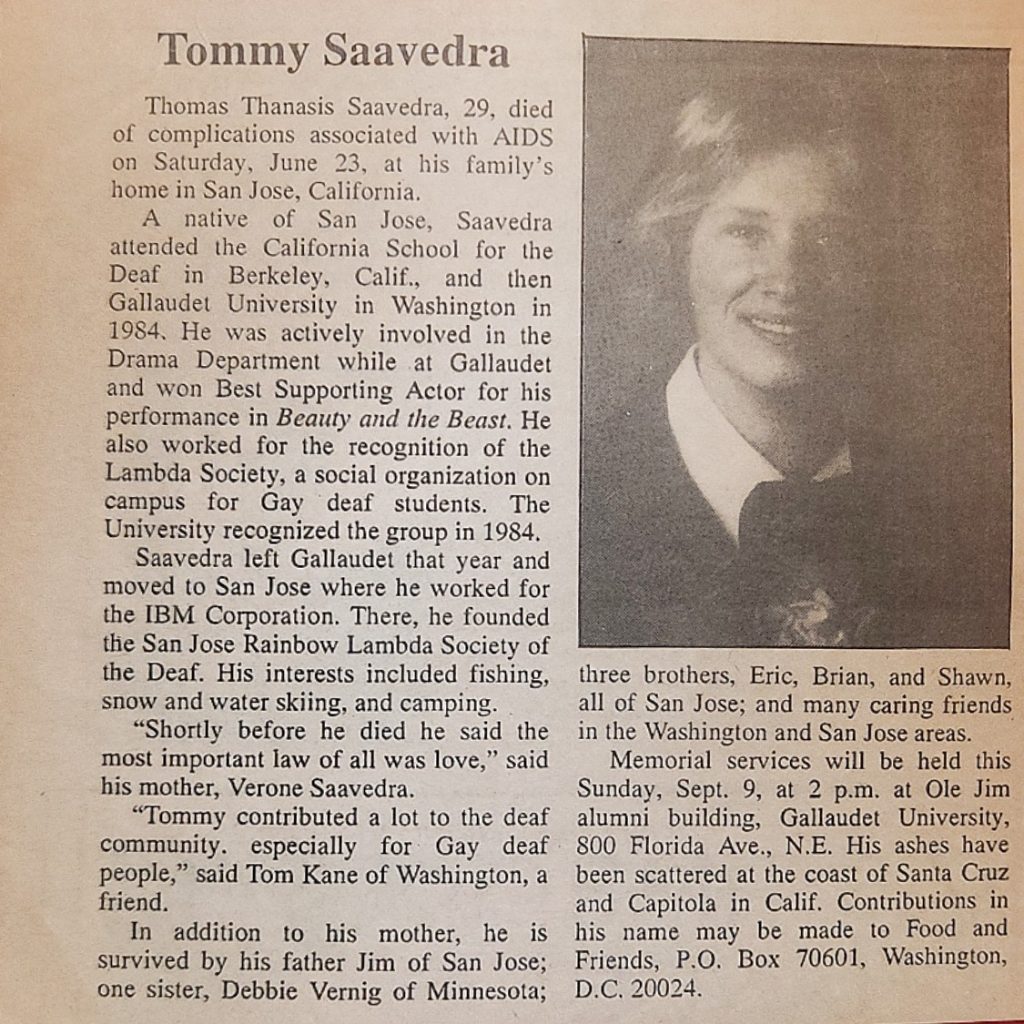 Thomas Thanasis Saavedra, 29, died of complications associated with AIDS on Saturday, June 23, at his family's home in San Jose, California.
A native of San Jose, Saavedra attended the California School for the Deaf in Berkeley, Calif., and then Gallaudet University in Washington in 1984. He was actively involved in the Drama Department while at Gallaudet and won Best Supporting Actor for his performance in Beauty and the Beast. He also worked for the recognition of the Lambda Society, a social organization on campus for Gay deaf students. The University recognized the group in 1984.
Saavedra left Gallaudet that year and moved to San Jose where he worked for the IBM Corporation. There, he founded the San Jose Rainbow Lambda Society of the Deaf. His interests included fishing, snow and water skiing, and camping.
"Shortly before he died he said the most important law of all was love," said his mother, Verone Saavedra.
"Tommy contributed a lot to the deaf community, especially for Gay deaf people," said Tom Kane of Washington, a friend.
In addition to his mother, he is survived by his father Jim of San Jose; one sister, Debbie Vernig of Minnesota; three brothers, Eric, Brian, and Shawn, all of San Jose; and many caring friends in the Washington and San Jose areas.
Memorial services will be held this Sunday, Sept. 9, at 2 p.m. at Ole Jim alumni building, Gallaudet University, 800 Florida Ave., N.E. His ashes have been scattered at the coast of Santa Cruz and Capitola in Calif. Contributions in his name may be made to Food and Friends, P.O. Box 70601, Washington, D.C. 20024.
Source: Washington Blade | Submitted by Bob Rourke | Transcribed by Nanette Edwards
***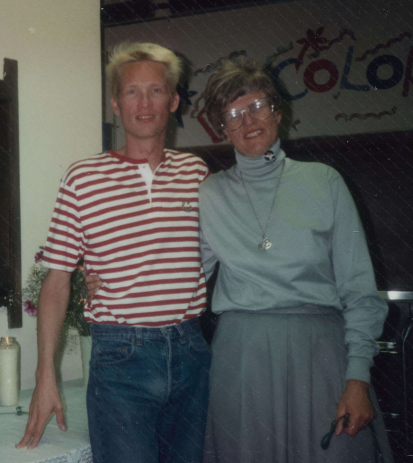 Tommy with Darol Nance. Photograph submitted by Meredith Peruzzi.
Share a memory or leave a comment...
You must be logged in to post a comment. Registration required. All posts are moderated and will not appear immediately.