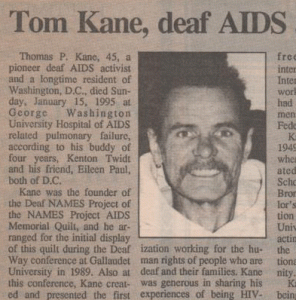 Tom Kane, deaf AIDS advocate, dies at 45
Thomas P. Kane, 45, a pioneer deaf AIDS activist and a longtime resident of Washington, D.C., died Sunday, January 15, 1995 at George Washington University Hospital of AIDS related pulmonary failure, according to his buddy of four years, Kenton Twidt and his friend Eileen Paul, both of D.C.
Kane was the founder of the Deaf NAMES Project of the NAMES Project AIDS Memorial Quilt, and he arranged for the initial display of this quilt during the Deaf Way conference at Gallaudet University in 1989. Also at this conference, Kane created and presented the first workshop on deaf Gay culture. He was one of the first TTY operators to work on the Metro TeenAIDS hotline, responding to callers who were deaf. Kane was a founding member of Deaf AIDS Action, an organization created by deaf people to address AIDS in the deaf community. From 1991-93, he worked as an AIDS outreach worker and educator for Deafpride, Inc., a Washington-based organization working for the human rights of people who are deaf and their families. Kane was generous in sharing his experiences of being HIV-positive and having AIDS and he was also a member of the Deaf HIV/AIDS support group.
An officer and active member of the Capital Metro Rainbow Alliance, a local organization for deaf Gay men and Lesbians, Kane was also archivist for the national organization, the Rainbow Alliance of the Deaf, and a member of the D.C. Association of Deaf Citizens. Most recently, he worked as a free-lance DeafBlind interpreter for the Gallaudet Interpreting Service. Before working at Deafpride, Kane had worked for the Government Printing Office on the Federal Register.
Kane was born Sept. 29, 1949 in the Bronx, N.Y., where he grew up. He graduated from St. Joseph's School for the Deaf in the Bronx. Kane earned a bachelor's degree in communication arts from Gallaudet University in 1986. He loved acting and was a member of the Alpha Psi Omega National Honor Theater Fraternity.
Kane was very proud of being Irish and celebrated St. Patrick's Day with special energy. He had a sometimes wicked wit and mischievous humor, according to Twidt. Kane was also a skilled photographer and a budding cook, and he also loved traveling, reading, and art. Lately he had chosen the sunflower as a symbol for life and had surrounded himself with them. He died on a Sunday at noon, when the sunflower faces directly overhead, attended by Twidt and many friends.
"Tom chose to live without drinking alcohol for the last 15 years of his life and faced the progression of AIDS with courage and without losing his zest or energy," said Paul. "He was always ready to take on the system which oppresses deaf and Gay people." Even during his last stay in hospital Kane continued to advocate, calling 911 when no one responded to his call button, and getting action.
In addition to Twidt and Paul, Kane is survived by two aunts, Elizabeth Hahn of Ossining, N.Y.; and Catherine O'Halloran of Staten Island, N.Y.; several cousins; and many dear friends. He was predeceased by his parents, Helen Grant and Thomas Kane.
Source: The Washington Blade | Submitted by Bob Rourke | Transcribed by Nanette Edwards
Share a memory or leave a comment...
You must be logged in to post a comment. Registration required. All posts are moderated and will not appear immediately.