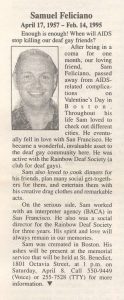 Samuel Feliciano
April 17, 1957 – Feb. 14, 1995
Enough is enough! When will AIDS stop killing our deaf friends?
After being in a coma for one month, our loving friend Sam Feliciano, passed away from AIDS-related complications on Valentine's Day in Boston. Throughout his life Sam loved to check out different cities. He eventually fell in love with San Francisco. He became a wonderful, invaluable asset to the deaf gay community here. He was active with the Rainbow Deaf Society (a club for deaf gays).
Sam also loved to cook dinners for his friends, plan many social get-togethers for them, and entertain them with his creative drag clothes and remarkable acts.
On the serious side, Sam worked with an interpreter agency (BACA) in San Francisco. He also was a social director for the Rainbow Deaf Society for three years. His spirit and love will always remain in our memories.
Sam was cremated in Boston. His ashes will be present at the memorial service that will be held at St. Benedict, 1801 Octavia Street, at 1 p.m. on Saturday, April 8. Call 550-9449 (Voice) or 255-7528 (TTY) for more information.
Source: Bay Area Reporter
Share a memory or leave a comment...
You must be logged in to post a comment. Registration required. All posts are moderated and will not appear immediately.