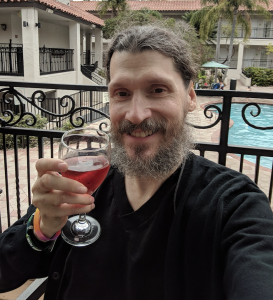 Ron Harmount Jr., of Minneapolis, MN died on May 4, 2021 in his home. It is unknown if he died of natural causes or Covid, however, as a long-term HIV/AIDS survivor, it may be that the disease weakened his immune system and therefore had an impact on his death.
The Minnesota Deaf and DeafBlind communities felt the great impact of the loss of Ron. He was very active in the communities; a mentor, teacher, advocate and a dear, dear friend to many.
Ron was known for his twinkling eyes and bright smile, and when you were hugged by Ron, you KNEW you were hugged. We miss him dearly.
Submitted by Paul Deeming
****
Ronald Harmount, Jr.
Age 54, of Minneapolis, MN, born December 14, 1966 in Columbus OH, and passed unexpectedly on May 4, 2021. His death was due to his ongoing health conditions. Preceded in death by mother, Beora. Survived by father, Ronald; sisters, Beatrice (Delbert), Birdena (Roger) NaveJar & Josie; uncle, Edward (Mary) Hart; 6 nephews; 4 nieces; 5 great-nephews; and 3 great-nieces. He was always proud of his family especially nephews/nieces and great-nephews/nieces. Graduated from Ohio School for the Deaf Class of 1985 and went to Gallaudet College in D.C., Class of 1990. Ron Jr's heart was very marvelous and he loved to participate in a lot of organizations. His highly positive nature was lifting and Ron Jr's sense of humor filled their people's lives and could easily turn their laughter into tears of joy. Ron Jr was loving and always joyful in his life.
Source: Epilogg
***
Ronald Harmount, Jr.
Harmount, Ronald Jr. 1966-2021 "Ron Jr" Harmount, age 54, passed away on Tuesday, May 4, 2021. He is preceded in death by his mother Beora. He is survived by his father, Ronald; 3 sisters, & many loved ones. Condolences.
Source: Crescent Tide | Submitted by Mark Bryd 
Share a memory or leave a comment...
You must be logged in to post a comment. Registration required. All posts are moderated and will not appear immediately.