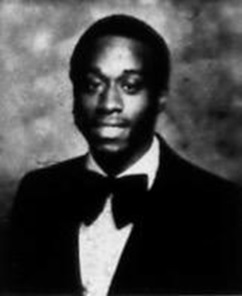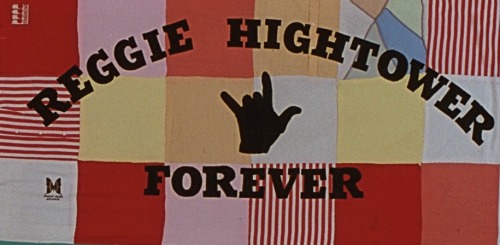 The AIDS quilt helps a woman understand brother's death, 20 years later
Brenda Hightower had tried to bury AIDS with her brother two decades ago. But in July 2007, she stood outside a tombstone-gray building in Midtown Atlanta, pressing a button that would unearth them both.
With a ring of the buzzer, Brenda entered the home of the AIDS Memorial Quilt. Her astonishment grew with each step.
The quilt was so massive, she thought. Sections lay folded on warehouse-style shelves by the thousands. Brenda kept glancing at the black-and-white portraits on the walls. Each represented a life lost, and so much sorrow. Despite her deep connection to the epidemic, she'd been oblivious to it all.
Her mind drifted back to that phone call in 1987, a few months after her brother died. His partner said he'd sewn together a few of Reggie's favorite shirts and sent them to San Francisco, where a fledgling group was assembling a quilt in memory of victims of AIDS. Brenda hung up the phone and hadn't thought much more of it — until now.
As a new volunteer with the NAMES Project Foundation, the group set up to manage the quilt, Brenda would fold upholstery remnants for future quilt panels. But first she said something that would have been unfathomable just a few months earlier. "I'm kind of embarrassed to tell you this," Brenda told Janece Shaffer, the foundation's communications director. "I think my brother is on the quilt."
His name was Reggie. He was deaf, she said. Then she made the sign for "I love you" with her right hand.
Shaffer screamed.
"Oh my God! Is your brother Reggie Hightower?"
Few names inspire more reverence among those close to the AIDS quilt, the world's largest ongoing community art project. Reggie Hightower was the first African-American memorialized on the quilt and the first deaf person. But perhaps most significant, Reggie's panel was among the first to arrive from outside of California, signaling all those years ago something both powerful and sad: The quilt would resonate far beyond San Francisco.
As Brenda watched, Shaffer called other staffers into the supply room. "You're not going to believe it," she said. "This is Reggie Hightower's sister."
"Our Reggie?" one staffer asked.
Brenda was confused. "I was like 'What do you mean your Reggie?' "
They were talking about the side of Reggie that Brenda never knew. That Reggie was gay. And that Reggie has had an extraordinary afterlife. It started in San Francisco. Then, stitch by stitch, that Reggie embarked on a two-decade journey back to Brenda in Atlanta.
So, too, did AIDS.
A covered casket
Brenda sat by Reggie's side in Atlanta's old Holy Family Hospital, watching a relentless fever ravage her 27-year-old brother. It was January 1987.
Reggie's illness stumped the doctors. They couldn't figure out what was ailing the free spirit who spiked volleyballs, danced disco and won track trophies at the Georgia School for the Deaf.
But when Reggie's roommate from Midtown visited, doctors noticed how the two men looked at each other. They asked the obvious question, and with his family huddled around, Reggie dropped a bombshell.
Even Brenda hadn't known her brother was gay. He had dated plenty of women and had a son.
Doctors performed a quick test and returned with more critical news: Reggie had AIDS.
In just two weeks' time, the young father whose physical prowess had made him a favorite in the shipping department at work slipped into a coma and died. The family told everyone in their southwest Atlanta neighborhood what the death certificate said: Reggie succumbed to pneumonia.
To them, AIDS was a gay, white plague. "From an African-American perspective," Brenda said, "no man wants to learn his son is gay. And AIDS? In the 1980s? No, no."
At the wake, a black veil covered Reggie's casket to prevent the usual kisses goodbye.
Brenda doesn't remember another word being uttered about the disease or her brother's sexual orientation. A reminder of both, later that year, caught her off guard.
Brenda, a Baptist who attends Creflo Dollar's giant World Changers Church International, had lent a friend the same Oral Roberts book she'd given Reggie in the hospital. When the woman returned it, she showed Brenda the note she had discovered inside.
Brenda recognized it immediately as the kind of paper doctors had used to communicate with her deaf brother. The note read: "You have AIDS. You can't go back to work."
She slipped the paper back inside the pages and snapped the volume shut. She thought she had closed the book on AIDS forever.
Immortalized in shirts
The grave-sized grid of shirts arrived at a storefront in San Francisco's Castro district six months after Reggie's death. Black felt letters double-stitched on top spelled out "Reggie Hightower Forever" around a black hand forming "I love you" in sign language.
Cleve Jones, leader of the quilt effort, ripped open the accompanying letter. Then, from his loft office, he shouted above the hum of sewing machines down below: "You have to come up here!"
Art Peterson Jr., Reggie's partner of more than three years, had written of a love made stronger by obstacles. Jones read aloud words that would appear in publications such as The New Yorker, then church sermons and, eventually, books. "He was deaf, I was hearing;" Peterson wrote. "He was black, I was white; we were both gay and proud. We agreed that these were the happiest times of our lives."
Peterson explained that the panel was made from Reggie's favorite shirts – "some his, some mine" – and asked that it be displayed in a prominent place. "I don't have many ideas on how he should be remembered — perhaps a carving on the side of Stone Mountain here in Georgia," Peterson wrote. "I feel it's a shame that I can't convey to others how great a life he lived, for he left no mark to be forever immortalized except deep within those people he loved and those who loved him."
Four months later, Peterson called Brenda. He said she might want to pick up a copy of USA Today. Most of what Brenda knows about that part of Reggie's life comes from the article she read that day. It described the night Reggie and Peterson met, how they scribbled notes on cocktail napkins to communicate. Later, Peterson learned sign language at Emory University.
Brenda couldn't believe the part about the two of them watching "Dynasty" together. They'd sip wine and pretend they were Carringtons. "They were like a married couple," she said.
Finding out Reggie was gay and had AIDS at virtually the same time he died made it easier to discard those aspects of his life, Brenda said. She never had to see him struggle in the face of homophobia or the discrimination that often comes with AIDS.
Even after meeting Peterson in the hospital, Brenda still had seen him as a mere roommate. The day after Reggie's funeral, Brenda and the rest of the family arrived at the apartment he and Peterson shared. They hauled away the bed, photo albums and Reggie's other belongings. Peterson watched.
"You can only imagine," Brenda said. "He loved him just as much as we did."
Brenda didn't stay in touch with Peterson. But when she visited Reggie's grave in the College Park Cemetery, fresh flowers were always there. Then, suddenly, in 1992, there were none.
Brenda raised a daughter, got married, then divorced. Aside from her best friend, the only people she can recall telling about her brother were a few gay co-workers. It was their disease, she thought.
'Do you have it?'
Before her evening shift behind the wheel of a FedEx truck, Brenda, 46, has a few hours to reflect on this year of transformation from her four-bedroom home southeast of Atlanta, in the Clayton County community of Ellenwood. She balls up her petite body on a white couch, the living room dim like the overcast October sky.
As recently as January, Brenda told a man she was dating that her brother had died of pneumonia. Come on, the guy said, was it really AIDS? Brenda held firm. "No."
She feared that unfamiliar territory where questions are many and answers few. "They're going to ask 'How long was he gay?' 'What was that like?' 'Did you touch your brother?' 'Do you have it?' "
The turning point came suddenly, during a phone conversation in the spring. Brenda told a new friend that she had developed a passion for aiding the sick while spending much of the past two years caring for her ailing mother and great-grandmother. He suggested she get involved with HIV/AIDS. A believer in fate, Brenda couldn't help but think this friend a messenger. His full name, like her brother's, was Reginald.
A little Web research led to a surprise: the AIDS epidemic had shifted. It's epicenter was right in her backyard. African-Americans accounted for half of newly diagnosed HIV/AIDS cases by 2004, even though they represented 12 percent of the population. "I'm really just embarrassed," Brenda says. "There were people, like me, who were silent. That's what AIDS is — a silent killer."
Brenda signed up for a seminar called "AIDS 101." One of the speakers described the pain of calling home to announce she had AIDS, then having her mother hang up on her. Afterward, Brenda gave the woman a big hug. Always know, she told her, that you are loved.
AIDS doesn't just kill, Brenda was learning. It creates, too. There's communion in caring for the sick and in grieving once they're gone.
Brenda fine-tuned her impulse to aid the sick. Her new dream: a center for women with AIDS in Clayton County. She scouted potential rental space along bus routes and researched grants. "I just want to give them a bath, show them that they're loved in their final days."
Brenda continued to do volunteer work with the AIDS quilt, which had fled the skyrocketing rents of San Francisco and landed in Atlanta. She could feel Reggie's spirit in the building but found herself thinking of his partner, too. As she suspected, Peterson was on the quilt. He died of AIDS in 1992.
The NAMES Project staff wanted Brenda to see Reggie's panel, too. But she declined. Brenda was holding out for one of the large displays, where quilt blocks are unfurled by the hundreds in one spot. When Brenda laid eyes on that Reggie for the first time, she wanted to see him with all the others.
A meeting
Her hair freshly braided, Brenda slogs across a soggy spot in Piedmont Park wearing blue jeans, tan boots and a red T-shirt. The sun is high in the sky. And the wind blows just enough to make this a perfect October day.
Not even Brenda's sunglasses can dim the brightly colored patchwork in the distance. More than 200 blocks, each containing eight panels, checkerboard the grass. Somewhere out there, she thinks, is Reggie.
As she strides closer, there's no mistaking the black handsign on her brother's panel. It's as if Reggie is greeting her.
"Oh, my God," Brenda says. "I walked right up to it."
She bounces on her toes and swings her arms forward into a clap. Brenda is quiet.
"I'm trying not to do it," she says, finally. "Oh. Oh, man."
Brenda pulls up her shades and exposes a face of tears.
But she doesn't linger long in front of Reggie's panel. Soon she is drifting through the tributes to fathers, toddlers, lovers and mothers. "Love and Miss You — Dad," says one. "Cherlynn" reads another one, with teddy bears and blankey attached.
Brenda's movements grow more deliberate. She wanders past a few windswept quilt blocks and says, to no one in particular, "Where's Art's?"
A NAMES Project staffer returns with bad news: The panels honoring Art Peterson aren't in today's display.
So Brenda returns to the only piece of Peterson around. For the first time, she casts a shadow over those carefully crafted words: "Reggie Hightower Forever."
Brenda studies the details. Buttons shine from Reggie's old shirts. The double-sewn thread has made the sun-faded panel so hardy.
Her eyes turn to water again. Only these tears are for the family member she never got to know. And for her new family — the mourners who sewed this acre.
Source: ajc.com | Article and photograph of Reggie submitted by Bob Rourke
Share a memory or leave a comment...
You must be logged in to post a comment. Registration required. All posts are moderated and will not appear immediately.