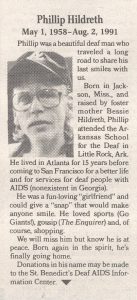 Phillip Hildreth
May 1, 1958 – Aug. 2, 1991
Phillip was a beautiful deaf man who traveled a long road to share his last smiles with us.
Born in Jackson, Miss., and raised by foster mother Bessie Hildreth, Phillip attended the Arkansas School for the Deaf in Little Rock, Ark. He lived in Atlanta for 15 years before coming to San Francisco for a better life and for services for deaf people with AIDS (nonexistent in Georgia).
He was a fun-loving "girlfriend" and could give a "snap" that would make anyone smile. He loved sports (Go Giants!), gossip (The Enquirer) and, of course, shopping.
We will miss him but know he is at peace. Born again in the spirit, he's finally going home.
Donations in his name may be made to the St. Benedict's Deaf AIDS Information Center.
(Source: Bay Area Reporter)
Share a memory or leave a comment...
You must be logged in to post a comment. Registration required. All posts are moderated and will not appear immediately.