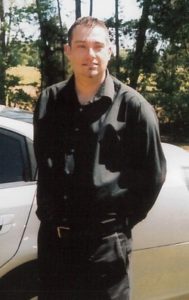 September 23, 1974 – November 29, 2018
Michael Ray Henson passed from this life on Thursday, November 29, 2018 in Austin, Texas. He was born on September 23, 1974, the son of Elvin Ray and Joyce Berry Henson. Michael lost his mom in a tragic accident when he was very young and was later blessed with having Vicki Coats to help raise him.
Michael graduated from Douglass High School in 1993, and then attended Austin Community College where he gained an associate degree in sign language and interpreting in 2007. He thoroughly enjoyed his life in Austin and made many friends there that he considered family, as well. Michael loved being around people and devoted himself to his community in Austin. He spent many hours with his friends, who nicknamed him "Hey Hey", camping and sitting around the campfire enjoying the company of others. Although Michael was outspoken and sometimes loud, he was compassionate and would help anyone who needed it. Michael absolutely loved drinking coffee, a passion he likely got from his dad.
His favorite place to be was on Lake Travis or the Guadalupe, when he had a chance. Michael was known to be an ever-present attendee at the church in downtown Austin on Saturdays and Sundays. He also adored his chihuahua's Riley and Nikki. Michael will forever be remembered for his happy smile and big blue eyes.
Michael is survived by his father, Elvin Ray Henson and wife, JoBeth of Nacogdoches; Vicki Coats, who loved him like her own son, and her fiancé, Ron Springfield of Nacogdoches; siblings, Brandi Byers Hightower and husband, William Greer of Seabrook, Chris Henson of Nacogdoches and Tina Dee Long of Douglass; nieces, Madeline Byers of Seabrook and Christa Henson of Jasper; nephews, Landon Byers of Seabrook, Brandon Asher of Nacogdoches and Cason Lane of Douglass.
He is preceded in death by his mom, Joyce Lynn Berry Henson.
A memorial visitation was held on Monday, December 3, 2018 at Laird Funeral Home.
Submitted by Rebecca Trotter
Note from Rebecca: Michael Henson was from Nacogdoches, TX but lived a good part of his life in Austin. He died on Nov 28 and was an interpreter.
Share a memory or leave a comment...
You must be logged in to post a comment. Registration required. All posts are moderated and will not appear immediately.