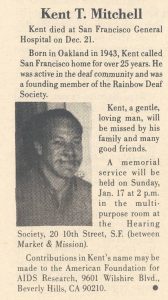 Kent T. Mitchell
December 21, 1987
Kent died at San Francisco General Hospital on Dec. 21.
Born in Oakland in 1943, Kent called San Francisco home for over 25 years. He was active in the deaf community and was a founding member of the Rainbow Deaf Society.
Kent, a gentle, loving man will be missed by his family and many good friends.
A memorial service will be held on Sunday, Jan. 17 at 2 p.m. in the multi-purpose room at the Hearing Society, 20 10th Street S.F. (between Market & Mission).
Contributions in Kent's name may be made to the American Foundation for AIDS Research 9601 Wilshire Blvd., Beverly Hills, CA 90210.
Source: Bay Area Reporter
Share a memory or leave a comment...
You must be logged in to post a comment. Registration required. All posts are moderated and will not appear immediately.