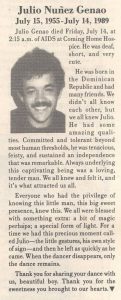 Julio Nunez Genao
July 15, 1955 – July 14, 1989
Julio Genao died Friday, July 14, at 2:15 a.m. of AIDS at Coming Home Hospice. He was deaf, short, and very cute.
He was born in the Dominican Republic and had many friends. We didn't all know each other but we all knew Julio. He had some amazing qualities. Committed and tolerant beyond most human thresholds, he was tenacious, feisty, and sustained an independence that was remarkable. Always underlying this captivating being was a loving, tender man. We all knew and felt it, and it's what attracted us all.
Everyone who had the privilege of knowing this little man, this big sweet presence, knew this. We all were blessed with something extra: a bit of magic perhaps; a special form of light. For a time we had this precious moment called Julio – the little gestures, his own style of sign – and then he left as quickly as he came. When the dancer disappears, only the dance remains.
Thank you for sharing your dance with us, beautiful boy. Thank you for the sweetness you brought to our hearts.
Source: Bay Area Reporter
Share a memory or leave a comment...
You must be logged in to post a comment. Registration required. All posts are moderated and will not appear immediately.