March 20, 1959 – January 10, 1998
Juanita Greggs, the daughter of William Stewart and Annie Greegs was born March 20, 1959 in Brooklyn, NY. She departed this life on January 10, 1998.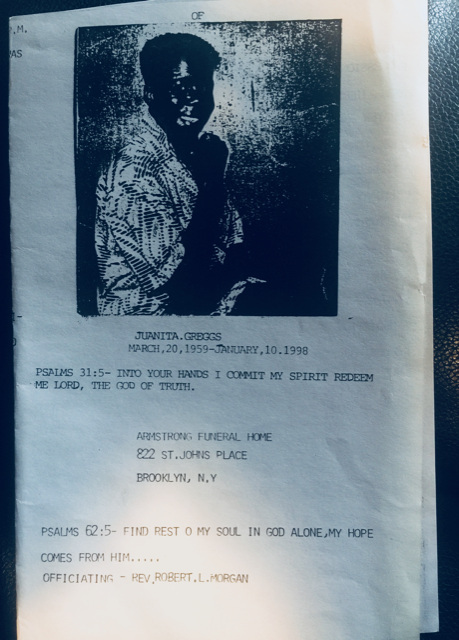 She attended J.H.S. 210 and later Erasmus HIgh School. She received her high school equivilency diploma and a degree in auto mechanics a few years later at job corps in Oneota, NY.
Juanita was always the life of the party. She gave good advice and was there when anybody needed her. She tried to counsel and encourage young people, she was an inspiration to all who were privileged to know her.
Juanita was also known in her younger days as Nita or Boogie. She is survived by her parents, her step mother Bernice Steward, her brothers Aaron and Victor Carl Greggs, her 3 sisters Valerie Rodney, Marie Greggs and Ages Ellerby, as well as 3 stepbrothers: Broderick and the twins, Uncle Alonzo, Phillip and Nathaniel, 3 aunts Juanita, Louise, and Rozlynn, 2 brother-in-laws David and Dillion, 2 special-in-laws Barbara and Angie, 3 very close cousins Diane, Shanda, Arlene as well as 14 nephews and nieces, 1 great nephew and many other loving cousins, family and friends.
Submitted by the Rev. Deacon Dr. Gene Bourquin
Note from Rev. Bourguqin: Juanita passed away around 1998 and was about 32 years old. Juanita was born sighted-hearing and became deaf and blind due to HIV virus medications.
Share a memory or leave a comment...
You must be logged in to post a comment. Registration required. All posts are moderated and will not appear immediately.