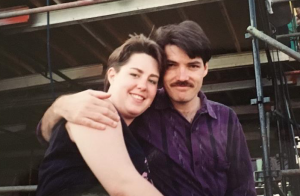 John McBride
February 15, 1997
On February 15, John McBride's soul left his body to begin what he believed would be his next journey. He was 34.
Since moving to San Francisco in 1983, John's energies and talents were spent working for and with the deaf communities and the gay and lesbian communities. As a sign language interpreter, he quickly rose in the ranks of interpreters to become both nationally and internationally recognized.
John spent years as a tireless advocate in the struggle to bring AIDS awareness and education to the deaf community. His commitment to this work began in 1985; his efforts to make sure the deaf

community was not overlooked stretched from the United States to Canada and as far as Brazil.
John's passions, talents, humor and love are but some of the gifts he has left us with to help heal his loss.  he is survived by his mother, sisters, brothers, nieces and nephews, and his loving international family of friends.
Donations may be made in John's name to:  NorCRID John McBride Memorial Fund, DGLC and The Deaf AIDS Project. A memorial will be held April 12. For information e-mail to Hopeberry @ aol.com
Source: Bay Area Reporter | Photograph of Hope and John via Drago Renteria
Share a memory or leave a comment...
You must be logged in to post a comment. Registration required. All posts are moderated and will not appear immediately.