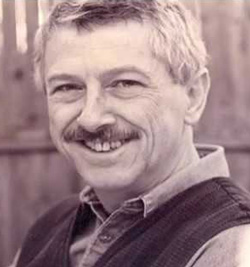 American Sign Language (ASL) is its own beautiful and rich language that has its own unique grammar and syntax. This was proven by linguists at Gallaudet University in the mid-twentieth century. Since then, more aspects of ASL have been defined, including ASL literature. ASL Literature is defined as creative works that have stood the test of time and reflect the deaf experience. These can be visual works, folk lore, plays, legends, or even personal experiences. One significant genre is poetry. These signed works tell stories in visual ways and also have elements of poetry, just like written poetry.
Clayton Valli was a notable ASL poet and linguist who identified aspects of ASL poetry and was a significant community member who contributed to the growing legitimacy of ASL. On May 25, 1951 Clayton L Valli was born deaf in Newburyport, Massachusetts. He was named after his father and had two brothers and two sisters.
Education: First PhD in ASL Poetry
Valli earned his high school diploma from the Austine School for the Deaf in 1971, at the age of 20. The school was located in Brattleboro, Vermont. The first of many degrees that Valli earned during his lifetime was an Associate of Applied Science (A.A.S.) degree in Photography from the National Technical Institute for the Deaf. Next, he finished a B.A. in Social Psychology from the University of Nevada, Reno. His further endeavors led him to Gallaudet University, the only Liberal Arts College for the Deaf in the world. He earned his master's degree in Linguistics from Gallaudet in 1985. He also later worked at the school as a professor of linguistics and interpreting. After his master's degree, Valli went on to earn a doctorate degree from the Union Institute in Cincinnati, Ohio. He was the first person to receive a Ph.D. in Linguistics and ASL Poetics.
He gave a lecture on his dissertation at the second National American Sign Language Literature Conference in Rochester, New York. The conference took place March 28-31, 1996. During this presentation Valli expounds on his findings on ASL rhyme and meter in poetry. Valli compared rhyme in a written/spoken language poetry piece to repetition of signs or hand shapes in a visual language. Meter, or stressed and unstressed syllables within words being manipulated, was compared to the innate holds and moves of signs with ASL. He also talked about the richness of ASL poetry in contrast to written poetry. "ASL poetry has two hands you can use to express yourself and they can both be doing separate things, which can add a depth to the message that spoken poetry can't do when you only have one tongue to use."2 Valli told the audience about how ASL in its very nature, being a visual language, has more parts that make it a vibrant form of communication.
Scholar of ASL Linguistics
In addition to poetry, his career focused on Sociolinguistics, or the study of how language, such as structure and word choice is impacted by a person's background, like race, gender, or geographic location. He did presentations and workshop around the US and Canada, teaching people about his findings.
Through his work on ASL linguistics, he authored several books and numerous articles. He co-authored a linguistics textbook specific to ASL titled, Linguistics of American Sign Language, which has been edited and revised many times. Valli also co-wrote three other large works: What's Your Sign For Pizza?, Language Contact in the American Deaf Community, and Sociolinguistic Variation in American Sign Language. In addition to these, he also worked as an editor for the Gallaudet University Press, including serving as the editor of the textbook The Gallaudet Dictionary of American Sign Language.
Renowned Poet
Valli was a proponent of showing the legitimacy of ASL as a language and ASL poetry as a valid part of ASL Literature, even though there is not necessarily a written form. Additionally, Valli was an ASL poet himself. He wrote and performed many poems including Dandelions, I'm Sorry, My Favorite Old Summer House, Mushroom, and Snowflake, as well as many others.
Watch Valli's Dandelions Poem:
Since the first recording of sign language in 1913 by Veditz, the use of film and video has been an important way to capture and preserve sign language. Valli is no exception to this, as his collection of poetry titled, ASL Poetry: Selected Work of Clayton Valli is not printed in a book but is only available in DVD format, so it can be viewed in its origin language.
Continued Legacy
Though Valli died from complications related to AIDS in 2003, his work and influence is still significant in the Deaf community even today. His written and signed works continue to be a source of education and entertainment. His textbooks are still used in classrooms and universities today. His poems are studied, analyzed and recreated by students every year. Valli work also inspired other Deaf artists including Bernard Bragg and Nancy Rourke, the notable deaf painter.
Additionally, there are two memorial scholarships in his name at his alma mater and former workplace, Gallaudet University, for students perusing their education. He is greatly missed by the deaf community but his impact as a linguist, poet, scholar, teacher, and author still continues.
Source: Marta Belsky, Signing Savvy
Share a memory or leave a comment...
You must be logged in to post a comment. Registration required. All posts are moderated and will not appear immediately.