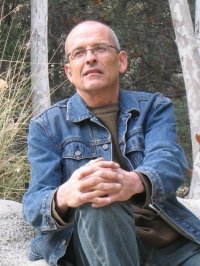 Charles David Carter, 53 years, died peacefully at home in San Diego, CA on March 21, 2009. He was born in Rotan, Fisher County, Texas to Grover C. Carter and Mary Ruth Carter on October 1, 1955. He attended Texas School for the Deaf in Austin, Texas and Harrison Chillhowee Baptist Academy in Knoxville, Tennessee.
He spend most of his youth in Dallas Texas where he worked for Haggar Corporation and performed as an actor in a number of plays for national and local theatre of the deaf.
He moved to Los Angeles in 1990 and worked at the AIDS Education of the Deaf for the Greater Los Angeles Agency on Deafness. Later he was employed as a Residential Property Manager for 17 years. He served on Los Angeles County Commission on HIV and was an American Sign Language Instructor for Disability Rights Legal Center (DRLC). Last year, he relocated to San Diego where he became a supporter of the Youth Housing Project through SDLBGT Community Center and Deaf Services Center of San Diego.
He was preceded in death by his father Grover C. Carter, a survivor of the sinking of USS Indianapolis C-35 on July 30, 1945. He is survived by his loving daughter Kami Jennifer Carter and her partner Beth of Kamuela, Hawaii; his mother Mary Ruth; stepfather Carl Tucker; sister Gwen White and husband Mike; nephews, Sean and Kyle White and families of Dallas, Texas; cousin Robert Carter of Houston, Texas; and a large extended family. Charles leaves loving friends; David, Andrew, Angela, Billy, Byron, Christina, Jim, Kevin, Richard, Roxanne, Shari, Scott, Tim, Vicki, and countless close friends across the country.
"In Loving Memory of Charles David Carter" page on facebook:
http://www.facebook.com/group.php?v=wall&ref=ts&gid=72835857360
Submitted by Billy Barr
Share a memory or leave a comment...
You must be logged in to post a comment. Registration required. All posts are moderated and will not appear immediately.