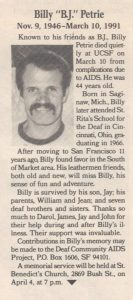 Billy "B.J." Petrie
Nov. 9 1946 – March 10, 1991
Known to his friends as B.J., Billy Petrie died quietly at UCSF on March 10 from complications due to AIDS. He was 44 years old.
Born in Saginaw, Mich., Billy later attended St. Rita's School for the Deaf in Cincinnati, Ohio, graduating in 1966.
After moving to San Francisco 11 years ago, Billy found favor in the South of Market area. His leathermen friends, both old and new, will miss Billy, his sense of fun and adventure.
Billy is survived by his son, Jay; his parents, William and Jean; and seven deaf brothers and sisters. Thanks so much to Darol, James, Jay and John for their help during and after Billy's illness. Their support was invaluable.
Contributions in Billy's memory may be made to the Deaf Community AIDS Project, P.O. Box 1606, SF 94101.
A memorial service will be held at St. Benedict's Church, 2869 Bush St., on April 4, at 7 p.m.
Source: Bay Area Reporter
Share a memory or leave a comment...
You must be logged in to post a comment. Registration required. All posts are moderated and will not appear immediately.