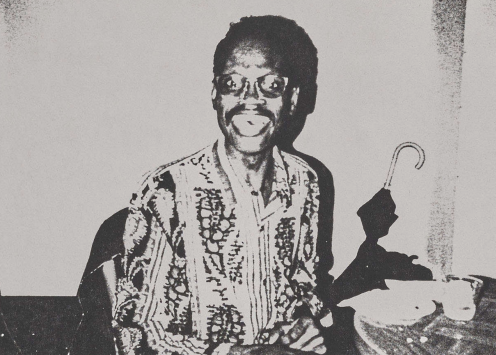 ALLEN WILLIAMS was born September 13, 1955
Allen was a member of HOLY SPIRIT EPISCOPAL CHURCH OF THE DEAF.
Allen graduated from the Talladasa School for the Deaf in Alabama and attended classes at Ohlone College in Fremont.
Allen was a native of Mobile, Alabama and came to San Francisco around 1978.
Allen departed this life on March 20, 1995. He leaves to cherish his memory: his mother Mrs Evelyn Williams Eaton of Mobile, Alabama; eight brothers, Shedd Graggs, Los Angeles, CA, Rev. McHery ( Lucy ) Williams, James ( Conquelo ) Williams, San DIego, CA, Herbert ( Arcola ) Williams, Thomasville, Alabama, McKensley Williams, Seattle, Washington, Boyza Williams, Curtis ( Natasha ) Williams and TImothy Williams; two sisters, Deborah ( Bobby ) Perine, Dianne Williams, Mobile, Alabama; cousins, Mrs Nora ( Booker T ) Cunningham, Chicago, IL and Bertha Anderson of Oakland, CA: uncles, eleven nieces, eleven nephews; three great nieces; a host of cousins; five God children; many devoted relatives; numerous friends and a very special friend, Jerry Lindsburg.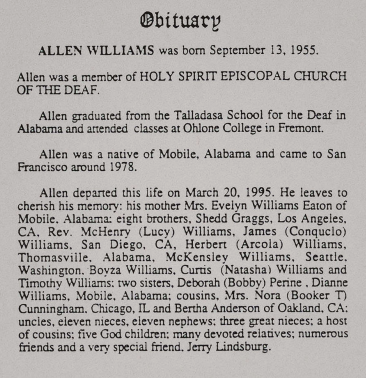 Source: Darol Nance | Submitted by Meredith Peruzzi | Transcribed by Nanette Edwards
Share a memory or leave a comment...
You must be logged in to post a comment. Registration required. All posts are moderated and will not appear immediately.