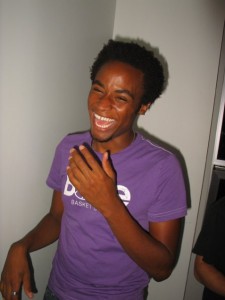 Terry Lewis Mackin, Jr., was from Charlotte, North Carolina. He was born on December 6, 1981, and passed away in Los Angeles, California on October 11, 2008, at the age of 26 years, from pneumonia-related complications of HIV.
Terry is and will always be fondly remembered by many people, especially those who attended Rochester Institute of Technology from 2000 – 2008. He formed excellent friendships with many Deaf students there. Terry was always there to listen to them, and was there for a lot of the fun and memories. He was one of the most genuine human beings you would ever meet, who could easily make you smile and laugh. He could easily connect with anybody. He never had an enemy, and had in himself a sincere kindness toward all. He saw everything without the slightest malice or reproach. He was one of those rare people who loved people in general with an amazingly positive energy constantly emanating from him – always smiling, always rolling on in pursuit of interesting goals. At RIT, Terry was part of the dance group Flux Fusion, and entertained many with his excellent dancing skills. He graduated with a degree in Business Management in 2008 and departed for Los Angeles with aspirations to become a career dancer. It was briefly after his arrival in Los Angeles that he passed away suddenly. It is exceedingly unfortunate that he never reached his dream in Los Angeles. Many of his friends have expressed the consensus opinion that they were fortunate to have experienced him as a wonderfully positive force in their lives. Terry is deeply missed by those many friends.
Submitted by Brian Andrew Milburn
Share a memory or leave a comment...
You must be logged in to post a comment. Registration required. All posts are moderated and will not appear immediately.