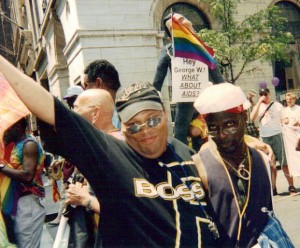 [Photo: Richard Davidson (left) and Hugh McKenzie (right) marching with Housing Works in the New York City LGBT Pride march circa 1999 or 2000.]
Richard grew up in New York City and attended JHS 47 for the Deaf. He received case management services and attended Deaf Peer Education classes at Housing Works.
Both Richard, and his friend Hugh, passed away about a week or so apart in April 2012.
Submitted by Larry Wasserman
Share a memory or leave a comment...
You must be logged in to post a comment. Registration required. All posts are moderated and will not appear immediately.