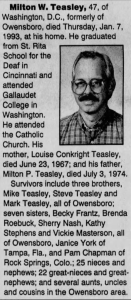 Milton W Teasley, 47, of Washington, D.C., formerly of Owensboro, died Thursday, Jan. 7, 1993, at his home. He graduated from St. Rita School for the Deaf in Cincinnati and attended Gallaudet College in Washington. He attended the Catholic Church. His mother, Louise Conkright Teasley, died June 23, 1967: and his father Milton P. Teasley, died July 3, 1974.
Survivors include three brothers, Mike Teasley, Steve Teasley and Mark Teasley, all of Owensboro; seven sisters, Becky Frantz, Brenda Roebuck, Sherry Nash, Kathy Stephens and Vickie Masterson, all of Owensboro, Janice York of Tampa, Fla., and Pam Chapman of Rock Springs, Colo.; 25 nieces and nephews; 22 great-nieces and great-nephews; and several aunts, uncles and cousins in the Owensboro area.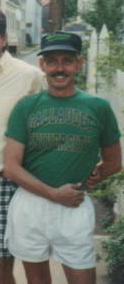 Submitted by David Perez and also by Sarita Johnson | Transcribed by Nanette Edwards | Bottom Photograph Submitted by Bob Rourke
Share a memory or leave a comment...
You must be logged in to post a comment. Registration required. All posts are moderated and will not appear immediately.