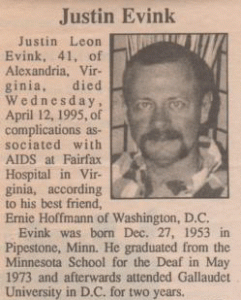 Justin Leon Evink, 41, of Alexandria, Virginia, died Wednesday, April 12, 1995, of complications associated with AIDS at Fairfax Hospital in Virginia, according to his best friend, Ernie Hoffmann of Washington, D.C.
Evink was born Dec. 27, 1953 in Pipestone, Minn. He graduated from the Minnesota School for the Deaf in May 1973 and afterwards attended Gallaudet University in D.C. for two years.
Evink worked for Bell Atlantic in D.C. from 1975 until his retirement in 1993.
Evink's other interests included traveling, attending parties, and going to many leather/Levi events. He was a member of Capital Metro Rainbow Alliance, a Gay social club for people who are deaf or hearing impaired. Evink was also a member of the leather/Levi club Highwaymen, TNT. He also enjoyed teaching sign language to his friends and co-workers.
In addition to Hoffmann, Evink is survived by his mother, Joan Hawkins and stepfather, Milo Hawkins of Benson, Minn.; brother, Kevin Evink of Spicer, Minn.; and stepbrother, Dustin Hawkins of New Ulm, Minn.; and several nieces and nephews.
Evink is also survived by friends Bob Fisher, Vishwas Pethe, Tony Cocove, Dean Rotenberger, and Bill Revell, all of the D.C. metropolitan area.
A memorial service was held April 19 in Minnesota and a celebration of Evink's life will be held Saturday, April 29, at 4 p.m. at Gallaudet University in the Peikoff Alumni House (aka Ole Jim), 800 Florida Ave., NE. Call Hoffmann or Revell at (202) 387-3689 for more information on the service.
In lieu of flowers, contributions in Evink's name may be made to the Friends in Need Fund, c/o Highwaymen, TNT, PO Box 545, Ben Franklin Station, Washington.
Submitted by Bob Rourke | Transcribed by Nanette Edwards
Share a memory or leave a comment...
You must be logged in to post a comment. Registration required. All posts are moderated and will not appear immediately.