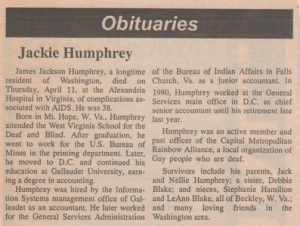 James Jackson Humphrey, a longtime resident of Washington, died on Thursday, April 11, at the Alexandria Hospital in Virginia, of complications associated with AIDS. He was 38.
Born in Mt. Hope, W. Va., Humphrey attended the West Virginia School for the Deaf and Blind. After graduation he went to work for the U.S. Bureau of Mines in the printing department. Later, he moved to D.C. and continued his education at Gallaudet University, earning a degree in accounting.
Humphrey was hired by the Information Systems management office of Gallaudet as an accountant. He later worked for the General Services Administration of the Bureau of Indian Affairs in Falls Church, Va. as a junior accountant. In 1980 Humphrey worked at the General Services main office in D.C. as chief senior accountant until his retirement late last year.
Humphrey was an active member and past officer of the Capital Metropolitan Rainbow Alliance, a local organization of Gay people who are deaf.
Survivors include his parents, Jack and Nellie Humphrey; a sister, Debbie Blake; and nieces, Stephanie Hanilton and LeAnn Blake, all of Beckley, W. Va.; and many loving friends in the Washington area.
Submitted by Bob Rourke | Transcribed by Nanette Edwards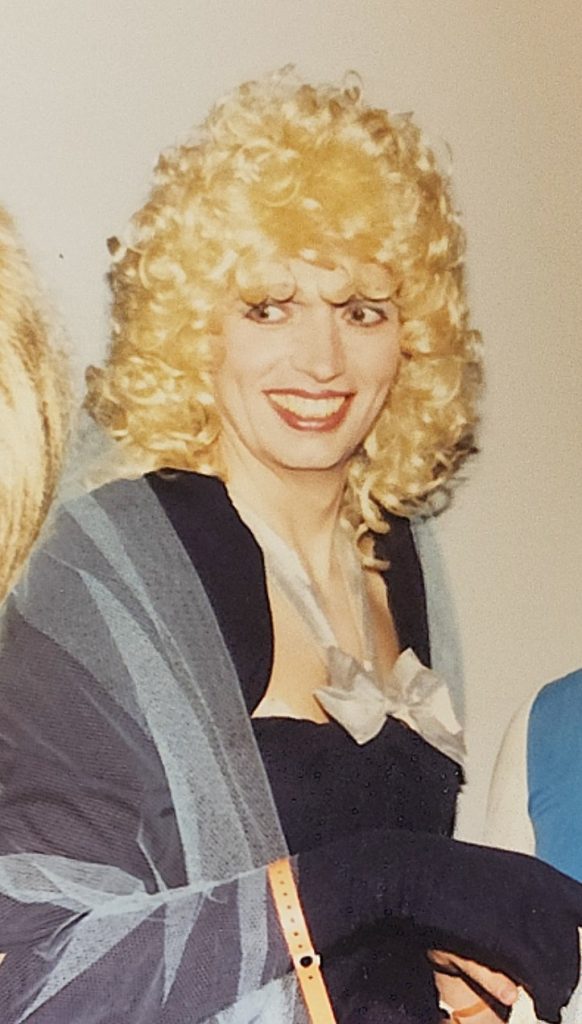 Jackie at CMRA's Halloween party at Tracks around 1990. Photograph submitted by Bob Rourke.
Share a memory or leave a comment...
You must be logged in to post a comment. Registration required. All posts are moderated and will not appear immediately.