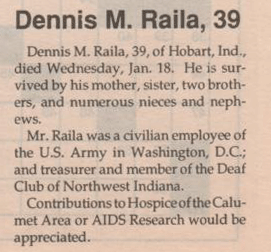 Dennis M. Raila, 39 of Hobart, Ind., died Wednesday, Jan. 18. He is survived by his mother, sister, two brothers, and numerous nieces and nephews.
Mr. Raila was a civilian employee of the U.S. Army in Washington, D.C.; and treasurer and member of the Deaf Club of Northwest Indiana.
Contributions to Hospice of the Calumet Area or AIDS Research would be appreciated.
Submitted by Bob Rourke | Transcribed by Nanette Edwards
Share a memory or leave a comment...
You must be logged in to post a comment. Registration required. All posts are moderated and will not appear immediately.