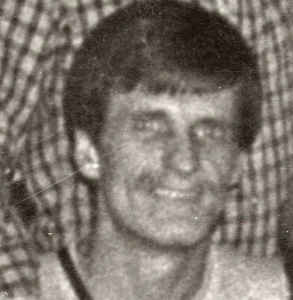 Buzzy Conterio was one of first Deaf people in the Washington, D.C., area to pass away to AIDS. This was around 1988. Buzzy's real first name was Leo. He was my neighbor and he loved to walk his tiny dog everyday. He graduated from Michigan School for the Deaf around 1968.
Submitted by Bob Rourke
***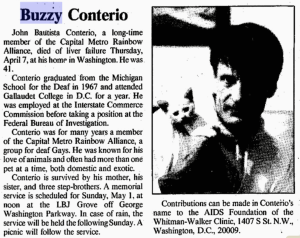 John Bautista Conterio, a long-time member of the Capital Metro Rainbow Alliance, died of liver failure Thursday, April 7, at his home in Washington. He was. 41.
Conterio graduated from the Michigan School for the Deaf in 1967 and attended Gallaudet College in D.C. for a year. He was employed at the Interstate Commerce Commission before taking a position at the Federal Bureau of Investigation. Conterio was for many years a member of the Capital Metro Rainbow Alliance, a group for deaf Gays. He was known for his love of animals and often had more than one pet at a time, both domestic and exotic.
Conterio is survived by his mother, his sister, and three step-brothers. A memorial service is scheduled for Sunday, May 1, at noon at the LBJ Grove off George Washington Parkway. In case of rain, the service will be held the following Sunday. A picnic will follow the service. Contributions can be made in Conterio's name to the AIDS Foundation of the Whitman-Walker Clinic, 1407 S St. N.W. Washington, D.C., 20009.
Source: Washington Blade | Submitted by: Bob Rourke | Transcribed by Nanette Edwards
Share a memory or leave a comment...
You must be logged in to post a comment. Registration required. All posts are moderated and will not appear immediately.