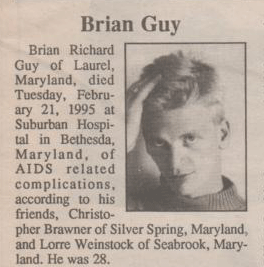 Brian Richard Guy of Laurel, Maryland, died Tuesday, February 21, 1995 at Suburban Hospital in Bethesda, Maryland, of AIDS related complications, according to his friends, Christopher Brawner of Silver Spring, Maryland, and Lorre Weinstock of Seabrook, Maryland. He was 28.
Known to his friends as Bri, Guy was born in Sisseton, S.D. on Dec. 17, 1966. His family resided in Veblen, S.D., where he spent his early years. At the age of four, he was enrolled in the South Dakota School for the Deaf in Sioux Falls. He graduated in 1985 and moved to Washington, D.C. to attend Gallaudet University, where he served as vice president of preparatory student affairs.
Guy later worked as a carpenter and at the Children's Museum of Washington. He also served as a TTY operator for Deaf AIDS Action, and counseled others as a relief program specialist for Deaf Horizons and in the independent living skills programs at Deaf REACH in D.C.
Guy attended Bethany Community Church in Laurel, where he participated in the choral program. An avid bowler, he bowled in two local leagues and was also a member of the Gallaudet gymnastics team. Guy loved painting, writing poetry, ice-fishing, swimming, camping, and crabbing. He spent many of his holidays at his family's farm in Veblen.
"Throughout Brian's illness, his thoughts were positive, and he always gave encouragement and strength to others," said Brawner and Weinstock.
Guy is survived by his parents, Charles and Adeline Guy of Veblen; brother, Randy Guy of Lake City, S.D.; four sisters, Rochelle Nickeson, Renee Olson, and Bonnie Barrett of Veblen and Becky Wolford of Moorehead, Minn.; grandmother, Serine Anderson of Britton; and a host of friends in Minnesota, South Dakota, and the Washington, D.C. area.
Guy's remains were interred in rural Veblen, under snow filled skies, on Feb. 25 at Zion Lutheran Cemetery. A memorial service will be held Sunday, April 30 from 1-3 p.m. at P.A.H. (formerly Ole' Jim) at Gallaudet University in D.C.
Contributions in Guy's name may be made to Deaf AIDS Action, PO Box 2925, Washington, DC 20013, or to Deaf REACH, 3521 12th St., NE, Washington, DC 20017.
Submitted by Bob Rourke | Transcribed by Nanette Edwards
Share a memory or leave a comment...
You must be logged in to post a comment. Registration required. All posts are moderated and will not appear immediately.